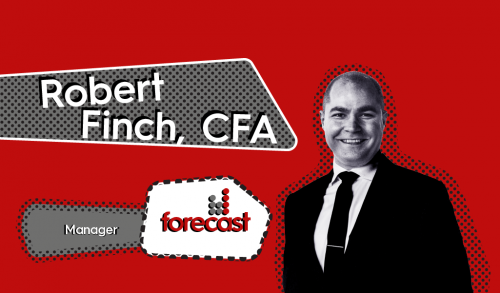 Robert has been a manager at Forecast in Sydney since 2018 and has a unique view on his role. His focus is to have a high amount of output, while also being someone that team members can comfortably approach with technical problems that they can't solve on their own. He has forged strong client relationships since joining Forecast and understands the importance of establishing clear communication channels from the outset. He sees being empathetic and listening to clients as a necessity for aligning goals and ensuring the best outcomes are reached.
"Something new for me about Forecast was the client facing nature of the role, which I hadn't experienced before. Maintaining strong relationships is a massive part of consulting."
Robert joined Forecast in 2017, back when the Australian team was smaller. As a previous 'go-to' person for answers, he knew he would have to prove himself again to his new peers. He says Greg's hands-off leadership style based on allowing workers to do what they do made him feel very comfortable. He suggests that one of Forecasts greatest strengths is the ability to recognise talent in an individual.
"Being a manager is about being trustable. It's about the boss being able to step away and trust that I get it done."
Robert has several qualifications that paint a picture of his desire for constant learning and personal development. He has a B.Com majoring in finance from Macquarie University and is a CFA charter holder. His journey was initiated by a passion for business, but university classes that revealed the world of mathematics to him. Maths turned out to be a strong point for Robert that sparked his interest and led him to earning a Graduate Certificate in Mathematics and Statistics from UTS, as well as undertaking a Master's degree in Data Science at the University of Sydney.
"Finance led me to maths, and from there I jumped towards studying statistical analysis. I think the art of financial modelling is making the same jump; data analytics is providing underlying reasoning for a business's performance and people are wanting to move away from just typing in general numbers when making model input assumptions"
Robert previously worked as a financial analyst at OFX, an online currency trader, where he provided decision support through statistical and financial analysis and developed financial models for strategy and budget forecasts. He also worked as a financial analyst at RF Capital where he developed budget models and management reporting tools for its subsidiary businesses. These data-based roles opened his eyes to a new field and revealed a strength within him that he was curious to explore.
What does Rob do for fun? He builds, it's his hobby. One look at the custom-made computer he built with 36 fans, two radiators and a custom water-cooling system makes this obvious. The custom motorcycles he has pieced together that are propped up in his garage also indicates this.
His ideal project would be a unique challenge that requires his full mental capacity to solve. He is motivated by the idea of finding a tangible commercial impact from his analysis that can make a real difference for a business. He works best when times are busy and prides himself on pressure and tight deadlines bringing out the best in him.
"My advice is simple, find something you're passionate about and love doing, but make sure it challenges you and stretches you to grow. It's ticking both of these boxes that allows you to deliver value to your clients and gives you a rewarding and meaningful career."
---
Make contact with Robert: