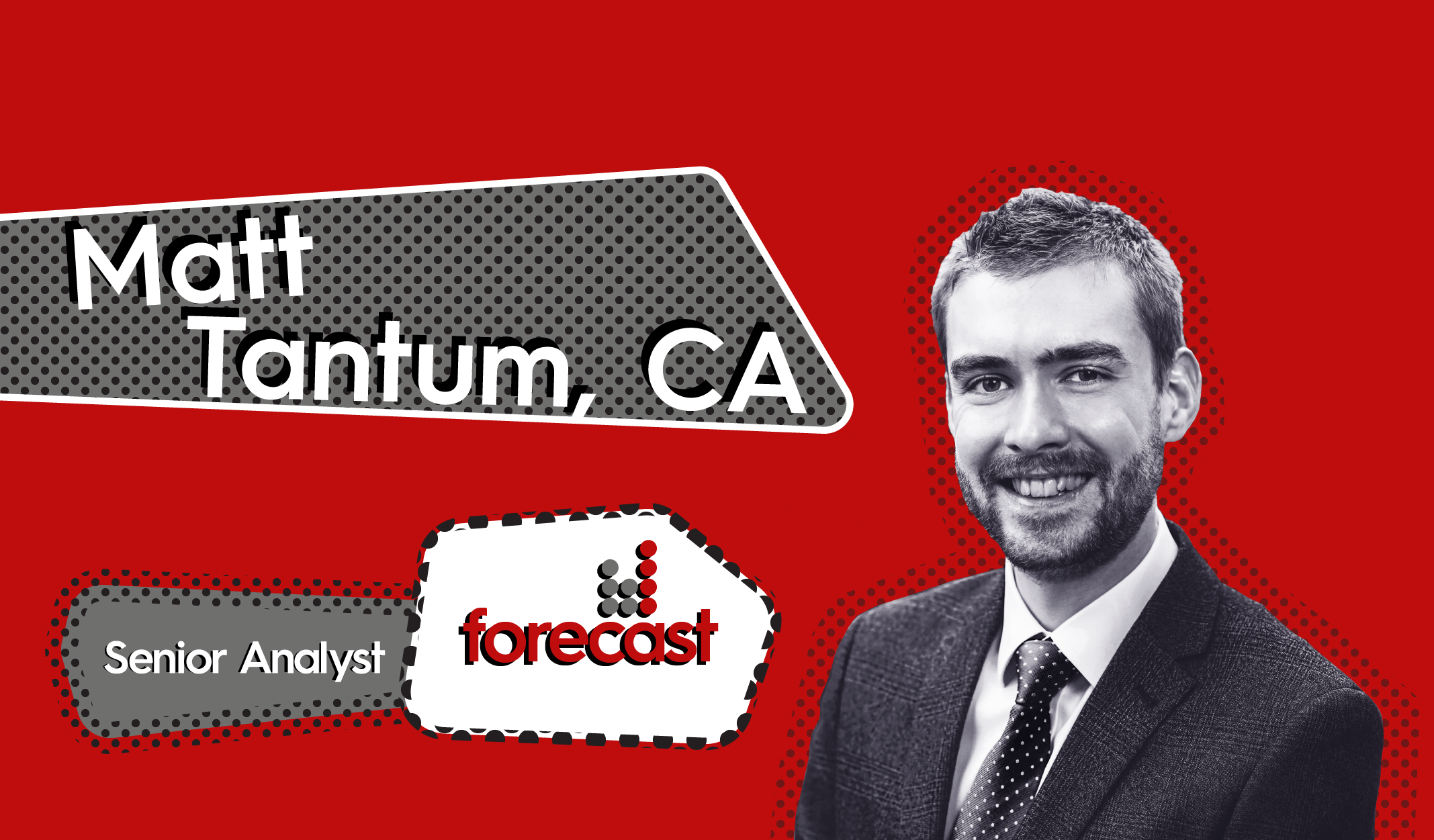 Matt was Forecast UK's fourth employee and joined in July 2017. Matt is originally from the rural market town of Morpeth in Northumberland and studied Business with Economics at the University of Northumbria. After graduating Matt made the move to Edinburgh to join EY's graduate scheme in 2013.
Matt is a member of the Institute of Chartered Accountants of Scotland having trained in EY's Corporate Restructuring team. It was here that Matt honed his commercial skills working on several major insolvency cases that involved significant real estate transactions and high profile civil legal actions. Since joining Forecast, Matt has led significant modelling projects for a variety of clients across multiple sectors which has contributed to the firm's recent growth.
Studying for my CA exams was one of the biggest challenges I have had in my career, but it has been extremely valuable to both be part of such an influential institute as well as the technical knowledge you acquire.
Matt is a Senior Analyst in the Modelling team. Being a CA, his accountancy experience and knowledge is a valued addition to his modelling skills, and this has been used to great effect for several of Forecast's most valued clients.
A well-designed financial model improves the decisions that senior management teams make and this ties Forecast to the future successes of our clients.
When Matt joined Forecast in 2017, it was a different business from the established consultancy it now has grown into. Matt was attracted to the prospect of joining a what was then a small company in its infancy, where he would be able to grow alongside the organisation.
Being outside of a big corporate environment brings significantly more exposure and responsibility. My role gives me great exposure to the senior decision makers at our clients, and I have forged some great relationships during my time here. There is certainly added pressure on my shoulders, but the rewards of delivering a successful project are huge.
In his time at Forecast, the business has built out a globally leading Analytics team, has further expanded the UK and Australian modelling teams, and has launched its first office in North America (Toronto, Canada). What has not changed is the agile, nimble and hardworking culture of the firm, allied with an unrivalled mix of technical skills and commercial experience.
The commercial background and experience of the Forecast team allows us to quickly understand how businesses and organisations operate and ensure that our deliverables are bespoke for each client. No Forecast created deliverable is ever an off the shelf product, something that sets us apart from the rest of the market.
Outside of work, Matt loves his sport, being a keen cricketer, cyclist and hiker, as well as a long-suffering fan of Newcastle United. Matt lives in Edinburgh with his girlfriend Lisa and is known in the office for being the binge-tea-drinker and joker.
---
Make contact with Matt: