We work with clients across all industries to bring them a competitive advantage from their data by facilitating better and faster decision-making using a data-driven approach.
Our work focuses on advanced analytics and is rooted in technical expertise, client experience and delivery. Forecast Analytics team members all hold advanced degrees in fields ranging from statistics to financial mathematics to computer sciences and have backgrounds in a variety of fields including academia, (retail) finance.
Depending on the nature of the engagement, Forecast team members can act in an advisory capacity or as full team members. The scope of the work Forecast is able to engage in includes predictive modelling, customer segmentation, price optimization and many more.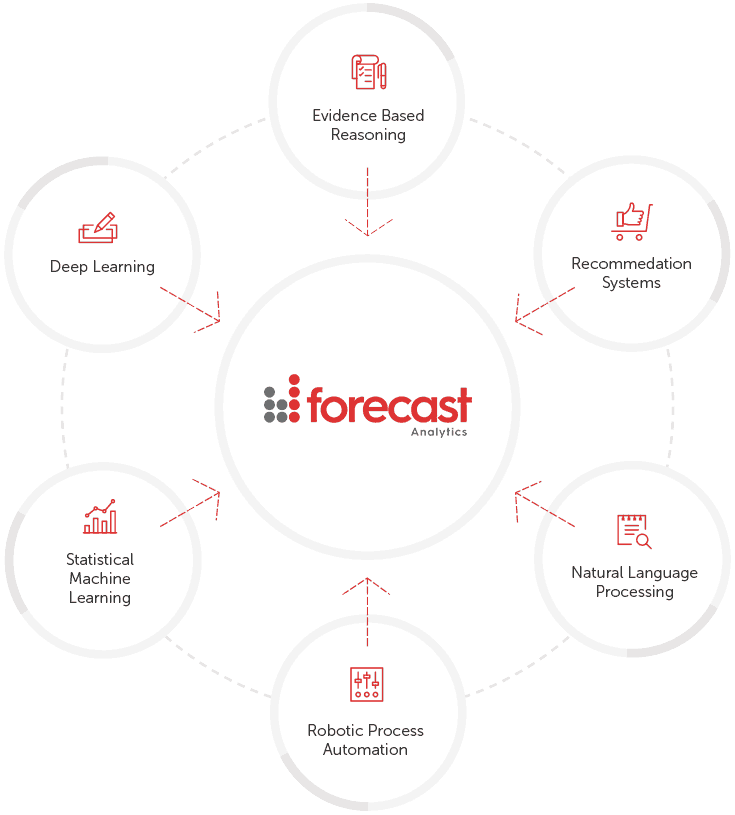 Statistical Machine Learning
Statistical Machine Learning is at the core of almost all projects Forecast works on and forms the basis to uncover patters and inform business decisions.
Deep Learning
Deep Learning covers a collection of techniques within Machine Learning and Artificial Intelligence that is very successful in problem sets that involve images and natural language.
Data Visualisation
Visualisations are crucial in the successful delivery of any analytics engagement. Some engagements also include an explicit visualisation component such as Tableau or PowerBI.
Natural Language Processing
An increasing amount of unstructured data is available and this type of data requires a specific set of tools to handle them. Forecast has experience of building classification models.
Intelligent Process Automation
Part of general notion of Artificial Intelligence, automating repetitive tasks using simple scripting languages can often yield very attractive and quick returns.
Machine Learning in Production
Unfortunately, many ML projects never make it into production. Forecast have extensive experience of integrating ML models into our client's workflow using cloud resources or custom APIs.
Meet our analytics experts
Reach our to one of our directors to empower your business performance!