Whilst governments and global commerce are manoeuvring as quickly as possible to limit the health and economic impacts of the fast-spreading COVID-19, the Oil & Gas sector is dealing with both varying supply and demand factors putting extreme downward pressure on crude oil prices. A sharp drop in demand due to an economic slowdown has been exacerbated by a  supply glut following a price war between the two dominant OPEC members: Saudi and Russia. This has created a perfect storm to drive the price of Brent crude below US$30 a barrel. A recovery to around US$30 followed tweets from Donald Trump, indicating he was hopeful of a new agreement between the two nations in the short term.
COVID-19 has developed into a colossal challenge for businesses across all sectors, and the Oil & Gas industry is certainly not sheltered from the far-reaching impact. From operators right down through the supply chain businesses are having to prioritise the health of their staff in new ways whilst minimising the impact on production.  With a number of confirmed cases onboard offshore installations, this challenge is mounting.
In addition to the adjustments being made on a day-to-day business, restrictions to contain COVID-19 have resulted in a sharp decline in economic activity and travel. Global crude demand has been impacted as much as 12Mbpd to date with more stringent measures slated to reduce demand further. The follow-on effect will see storage facilities nearing their capacity and their ability to buffer the market against further price decline being eroded.
Alongside COVID-19 and its impact on demand, the supply side is also working to suppress the oil price further . The breakdown of OPEC co-operation and Saudi-Russian negotiations on production limits has resulted in a price war in the fight for market-share. This has sent the oil price slipping into free fall with a flood of surplus supply onto a market already awash with US shale oil.
These factors have created a perfect storm for low oil prices which has seen Brent crude dropping below US$30 a barrel for the first time since February 2016. Further, as supply continues to flood the market for now, storage demand increases and if producers' fixed costs of operations remain sticky, the prospect of negative prices might not be totally unimaginable should Saudi Arabia and Russia not reach a new agreement to cut production levels. The recent strength of the US dollar has offered some reprieve and acted as a buffer for producers amid this crisis however increased volatility could quickly see this buffer disappear.
Given this current volatility and uncertainty, businesses across the sector are urgently reassessing short, medium and long-term views. The recovery to over US$30 a barrel this week will give the industry some hope, however there is currently no concrete reassurance of the recovery holding or continuing at this time.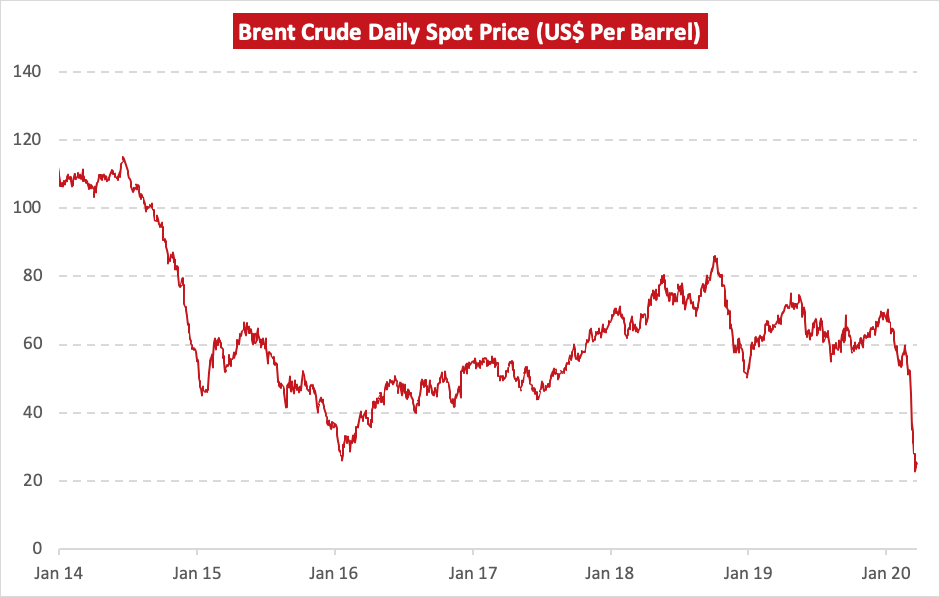 Source: Datahub.io
Let's not forget that this industry is tackling additional challenges such as Brexit in the UK and Europe and the looming decommissioning requirements in mature basins, amongst others.
Whilst many businesses are stress-testing their businesses for the impact of COVID-19, the Oil & Gas sector has the concern that a low oil price environment may persist long after the peak of the virus' devastating impact.  Whilst governments are trying to prevent as many job losses as possible it seems inevitable that the Oil & Gas sector will be forced to go through another cycle of right-sizing.
The general sense is that businesses in the Oil & Gas sector are more prepared for the challenge than in 2014-2016. A material reduction to the supply chain cost base was achieved in the last downcycle and businesses reliant on the sector have diversified into new markets to a greater extent. There has been an increased focus on the adoption of new technologies across the industry too, which are beginning to have a positive impact on the cost of production. The vast majority of North Sea production can still be marginally profitable at US$25 a barrel, at least in the short term.
Despite these recent positive developments in the cost of production and diversification of businesses servicing this sector, there is a real threat of a sustained period of low oil prices with further downward pressure expected.  As a result, many businesses are taking stock and assessing the actual and potential impact of both COVID-19 and the supply glut on their business.
At the centre of these impact assessments should lie a flexible and robust financial model that allows the finance team to assess a range of scenarios for the business.  These scenarios may include events such as delayed receipt of large invoices, project delays or long-term postponements and even a negative oil price environment.
With the governments around the world announcing economic support packages, it is vital that businesses can assess the impacts of applicable measures on their cash flow quickly. Making informed business decisions in this rapidly changing short-term horizon is key.
From our experience, many finance teams are often not well-equipped to deal with the speed, skills or resources required to support the decision-making process in such a fast-moving environment.  Forecast has a team of expert financial modellers with industry specific experience who can support your business. Please reach out to your Forecast contact or contact us via [email protected]
For further information on stress testing, please see the blog below "What Is Stress Testing?".